We are deeply saddened at Rabbi Wolkow's passing in the summer of 2020.
Rabbi Leo Wolkow z'l and his wife Helen have been treasured members of our Jewish community since he came to Temple B'nai Yehuda in 1964 to serve as the rabbi of a congregation dedicated to Jewish learning, worship, and community. He led the congregation for the next 34 years, guiding them through their relocation from 82nd Street on the South Side of Chicago to their new home in our present building in south suburban Homewood, Illinois.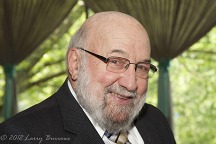 Rabbi Wolkow led in making B'nai Yehuda a vital element of the community and religious life of Chicago's South Suburbs. He served as President of the Clergy Council and Ministerial Association, established many interfaith dialogues and exchange programs, and initiated the annual Thanksgiving Eve service, which congregations in our area continue to celebrate together after three decades.
Born in the Boston area, Leo Wolkow received a Bachelors degree in Physics from Brandeis University, a Masters in Education from Boston University, and Bachelors and Masters degrees in Hebrew Letters from Hebrew Union College–Jewish Institute of Religion in New York. He was ordained with honors in 1962 and later also received an honorary Doctorate of Divinity from HUC–JIR.
Before coming to Temple B'nai Yehuda, Rabbi Wolkow served for two years as a chaplain in the US Army. He has held other leadership positions as President of the Chicago Association of Reform Rabbis and Chairman of the Rabbinic Advisory Committee of the Olin-Sang-Ruby Union Institute Camp in Oconomowoc, Wisconsin. He taught there for many summers, starting in 1965.
Education and mentoring of Jewish youth are major themes throughout Rabbi Wolkow's career. While pursuing academic and rabbinic studies, he served as a Temple Educator, Youth Director, and Head Camp Counselor at Camp Tel Yehuda. As Rabbi at B'nai Yehuda, he served on the board of the Anita M. Stone Jewish Community Center, the Board of Jewish Education, and other organizations. He has encouraged countless young people to go to Jewish camps, to visit Israel, and to stay involved in Jewish activities during and after college.
Rabbi Wolkow served as Rabbi of Temple B'nai Yehuda until his retirement in 1998, when B'nai Yehuda joined with Congregation Beth Sholom to form our present congregation. We are honored that he agreed to continue as our Rabbi Emeritus and to delight us on occasion with the wisdom and humor of his teaching.
Rabbi and Mrs. Wolkow have traveled extensively in the US and to Israel, Europe, Southeast Asia, Australia, Central and South America, and Antarctica. For some years after retirement, he served in winter as visiting Rabbi in Lake Charles, Louisiana, and on various cruise ships. He is also very active in the National Association of Retired Reform Rabbis. He and Mrs. Wolkow remain active members of our community, while continuing their travels to Israel and other destinations. They are the proud parents of Lisa, Rachel, and Jason.