Ellen Weinberg Dreyfus was the rabbi of B'nai Yehuda Beth Sholom from 1998, when the congregation was founded following the merger of Temple B'nai Yehuda and Congregation Beth Sholom, until her retirement in 2013. Prior to that, she served for 11 years as spiritual leader of Congregation Beth Sholom in Park Forest, Illinois. Rabbi Dreyfus worked at Temple B'nai Israel in Kankakee, Illinois (1984-86), as the Educational Coordinator at Temple Emanu-El in Oak Park, Michigan, and as a hospital chaplain at Memorial Sloan-Kettering Cancer Center and at Doctors Hospital in New York City.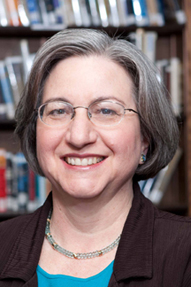 Rabbi Dreyfus is past-President of the Central Conference of American Rabbis, the organization of nearly 2,000 Reform rabbis in North America and around the world. She served on the Board of the Union for Reform Judaism, the Board of Governors of the Hebrew Union College – Jewish Institute of Religion, and the Reform Pension Board. She is past-president of the Chicago Board of Rabbis, the first woman to hold this office. She is a founder and past-president of the Women's Rabbinic Network and is on the Israel Bonds Rabbinic Cabinet. She has served as president of the South Suburban Ministerial Association, and chair of the Rabbinic Advisory Committee of the Olin-Sang-Ruby Union Institute Camp. She is a member and past-chair of the Ethics Commission of the Village of Homewood.
Rabbi Dreyfus is a Senior Rabbinic Fellow of the Shalom Hartman Institute in Jerusalem, Israel, and is one of a select group of rabbis from North America to have completed a 3-year program of study called "The Rabbinic Leadership Initiative." In 2004, the Hebrew Union College – Jewish Institute of Religion awarded her the degree of Doctor of Divinity, honoris causa, for 25 years of service to the Jewish people.
Rabbi Dreyfus is a native of Chicago and grew up on the south side. She received a B.A. in History from Fairhaven College in Bellingham, Washington, and attended the New York campus of the Hebrew Union College – Jewish Institute of Religion, where she earned a Master of Arts in Hebrew Literature, and was ordained in 1979. She and her husband, James N. Dreyfus, M.D., a rheumatologist practicing in Munster, Indiana, have lived in Homewood since 1983. They are the proud parents of Benjamin (married to Rabbi Elizabeth Richman), Lina (married to Dr. Adam Wallace), and David (married to Lauren Butterfield) and the joyful grandparents of Sivan, Eitan, and Penina Wallace and Yonatan and Avital Richman-Dreyfus.